FOOD
Health Benefits of Eating Chocolate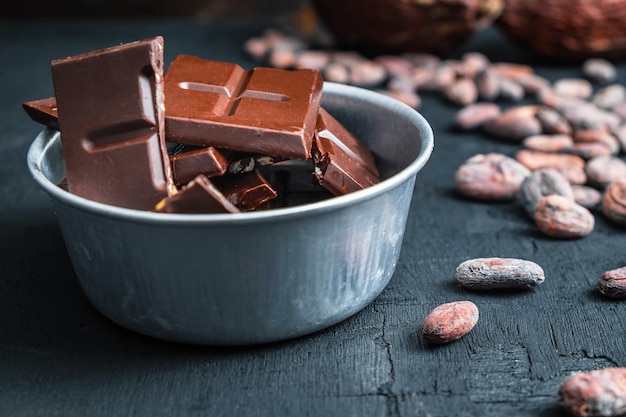 Health Benefits of Eating Chocolate
In moments of stress, times of sadness or joy, and amid happiness or boredom, many people resort to chocolate to draw a smile on their lips, and science has now proved in a recent study that eating dark chocolate can reduce the risk of depression by four times. The telegraph that chocolates healthier and better the darker it is.
A study by University College London, the University of Calgary and Alberta Health Services in Canada found that only 1.3% of the 12,000 people surveyed had symptoms of depression compared to 7.6% who did not eat chocolate.
This is not the only benefit of eating chocolate; experts have stressed that it is beneficial for the heart, blood circulation, and brain, and can be helpful for significant health symptoms such as autism, obesity, and diabetes. The newspaper reviewed 10 health benefits of chocolate, which it said were scientifically proven.
Useful for heart and circulation
A 2014 study showed that dark chocolate helps restore arterial elasticity and prevent white blood cells from sticking to the walls of blood vessels, both of which are common causes of blockage of arteries.
Reduces stroke risk
Scientists in Finland have discovered that chocolate consumption reduces the risk of stroke by an average of 17% among the group of men examined.
Rich in minerals
Dark chocolate is rich in beneficial minerals such as potassium, zinc, and selenium, and even a 100-gram piece provides 67% of the recommended amount of iron.
Lowers cholesterol
Cocoa consumption has been shown to reduce LDL cholesterol levels, raise HDL levels, and thus reduce the risk of cardiovascular disease.
Useful for the skin
Flavonolcompounds in dark chocolate protect the skin from harmful sunlight, but that doesn't prevent you from using some sunscreens.
Helps you lose weight
Neuroscientist Will Clower says melting a small piece of good chocolate on the tongue 20 minutes before a meal stimulates hormones in the brain, making one feel full and helping to lose weight.
Useful for mothers and newborns
A Finnish study has confirmed that chocolate reduces stress in pregnant women so that their babies are more likely to smile than children of mothers who don't eat chocolate.
Prevents diabetes
It might sound crazy! However, cocoa has been shown to improve insulin sensitivity, so eating dark chocolate in moderation may delay or prevent the onset of diabetes.
It benefits the brain.
Flavonols are believed to reduce memory loss in the elderly, and dark chocolate with its anti-inflammatory properties is useful in treating brain injuries, such as concussions.
It makes you feel better.
Chocolate contains phenylethylamine, the same chemical that the brain secretes when you fall in love with a woman.